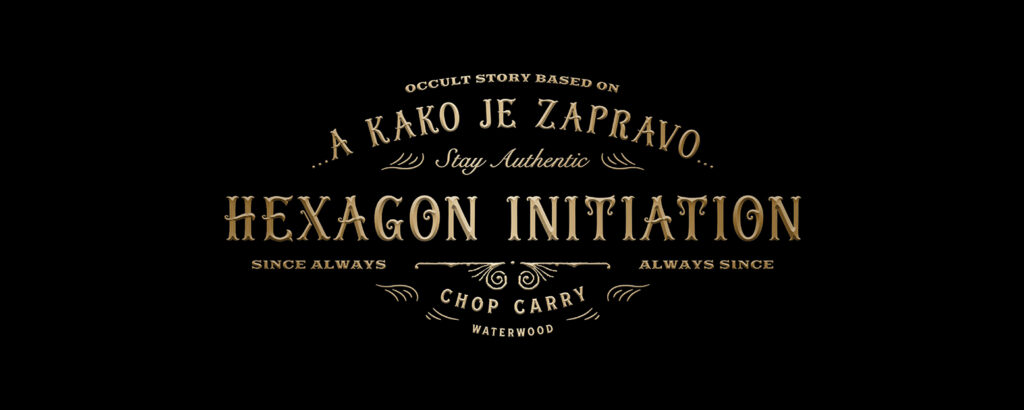 Hexagon Initiation
Hexagon Initiation is an estate winery & community of six truth seekers who delve deep into mystic and occult practices. Their alchemical approach comprises both spiritual and scientific principles to create a perfect handcrafted vine. With a focus on vinery exploration, they believe in embracing the power of numbers and symbols to unlock hidden truths and unique taste buds.
Design Concept: The goal was to create 6 batches of designs for red wines. For each member of the Hexagon crew design is showing uniqueness and individuality in a witty and abstract way. Gold slogans below the names of the wines are describing a keyword for each Hexa member. If you feel like want to play a game, try connecting the gold name with the illustration details.
Premium Amphora Bottle Batch No. 7 is a true masterpiece of design, featuring a stunning alchemical representation of the Hexagon Crew, which showcases a clever combination of science and art.
Logo mark: A different kind of hexagon symbol that embodies the principles of alchemy, blending both masculine and feminine energies for balance and harmony. It is also a symbol of ancient art of medicine and the power of transformation.
Bottle Design: The design is inspired by the amphora vessels that changed the way wine was transported from one country to another in the Bronze Age. Although the traditional amphoras are made with clay, this modern amphora bottle celebrates the old time with a new-age material. The idea was to design a bottle which not only holds a larger amount of wine but also be a centrepiece on the table.
Credits
Label Designs: Dusan Sol
Bottle Concept & CGI Visuals: Amit Chippa